High-quality products in unique premises. A visionary and sustainable building made of container modules can emphasize the high-quality features of the products exhibited inside.
Project: Showrooms Milan Design Week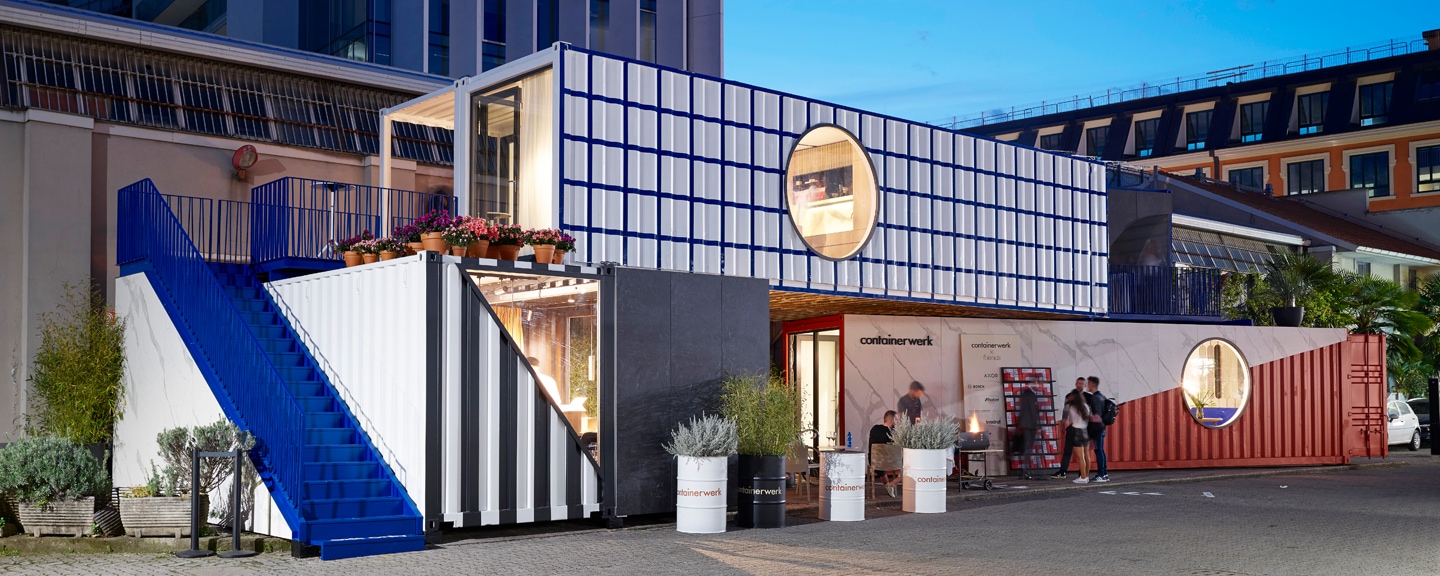 Under the motto CONTAINERWERK & FRIENDS, we presented our showroom together with outstanding partners at Tortona Design Week as part of Milan Designweek 2018. Among others, Geberit, Axor, Laminam, Kvadrat, Geberit Huter, and BOSCH were present, whose materials and products were integrated into the overall concept in and on the containers. Just 24 hours after the delivery of the finished containers, our installation was up and running in Milan. Over 30,000 people came to see our installation. The attention of the international press for our containers was overwhelming.
Client: Own project Containerwerk
Architect: Patrick Harnisch Architects/Mirko Ruppenstein
Use: Showrooms Micro Living/Living on time
Project scope: 1 x CW 40 D, 1 x CW 40 S, 1 x CW 20 D
Status: temporary project
Completion: April 2018
Image gallery Showrooms Milan
Two concepts were presented in our installation: On the one hand, we dedicated ourselves to micro-living, living in a small space. For this purpose, we placed everything necessary in everyday life in a 40′ High Cube Container. On the other hand, we exhibited in two connected 40′ High Cube Containers the theme "Temporary Housing", for a mobile and modern life.
For more information on the project, download the press release here.