Container architecture
Containerwerk offers architects, builders and investors an ideal building block for flexibly deployable residential units. This makes both permanent and temporary projects possible.
Architecture made from our industrially manufactured container modules offers decisive advantages compared to conventional construction methods.
Thanks to our multi-unit manufacturing plant, the unlimited availability of used freight containers, and the weather-independent processing in the production halls, we guarantee the provision of even high quantities on a fixed date. Due to industrial processing, the quality standards of our modules are consistently high. Room cells are assembled cleanly, quietly, and quickly on the construction site to create a building that is ready for occupancy. At the same time, the deployment and coordination of many different trades are not necessary. As a result, building owners enjoy maximum planning security and low construction costs.
Sustainable construction and the low energy requirements of the modules during operation ensure a high level of investment security. If needs or architectural requirements change, the containers' properties allow them to be easily supplemented, added to, deconstructed, and set up at other locations.
All topics about container architecture
Use
There are almost unlimited possibilities for using the modules as building blocks for serial and modular construction. The combination of several modules creates a wide range of space options.
Student residences, hotels, housing for people in need of care, vacation resorts, office buildings, and residential construction are just a few examples of the nearly unlimited uses of the space cells. In terms of quality, they are in no way inferior to building modules made of wood or concrete, but they have a decisive advantage thanks to their high mobility. In this way, they offer many options for the temporary use of space.
Sea freight containers in their purest form
"By using deep-sea containers in their purest form, Containerwerk retains all their advantages. One of them is the high mobility of the modules, and they can also be stacked and combined flexibly. This offers correspondingly good opportunities for temporary use of space as well."
Prof. Han Slawik, architect and engineer, pioneer of container architecture in Europe

Vacation Apartment/Tiny House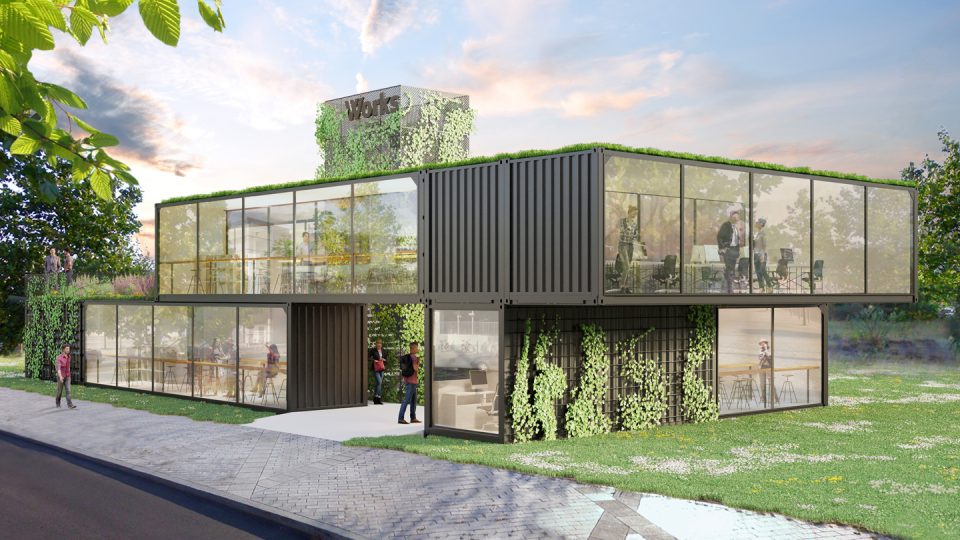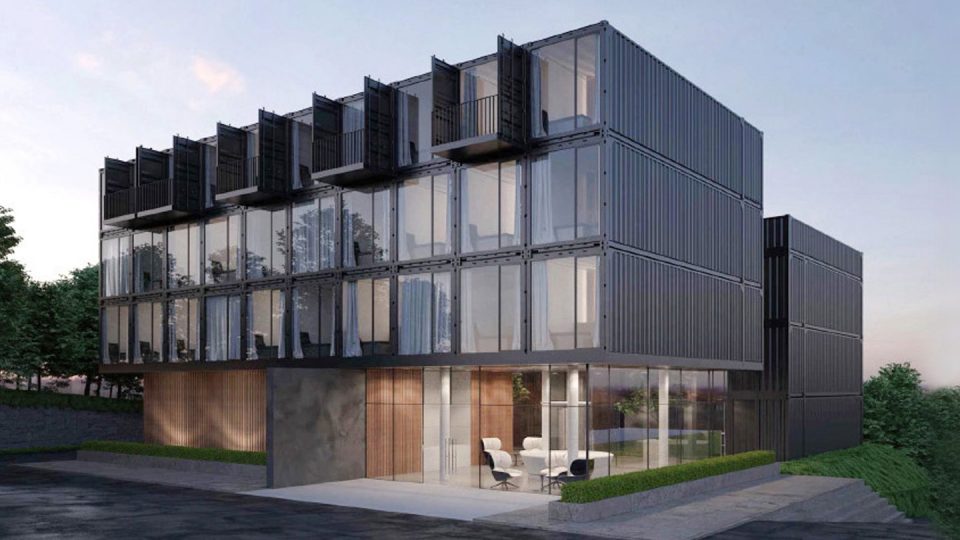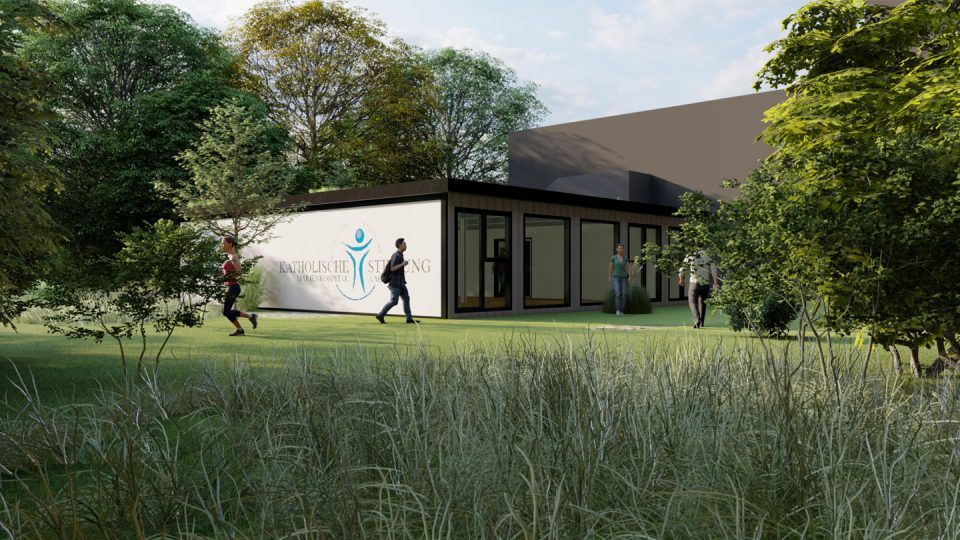 Retirement home/nursing/rehab 
Learn more about current projects and references.
Different uses require individual floor plans. Based on a few project examples, we show here how diverse the options are.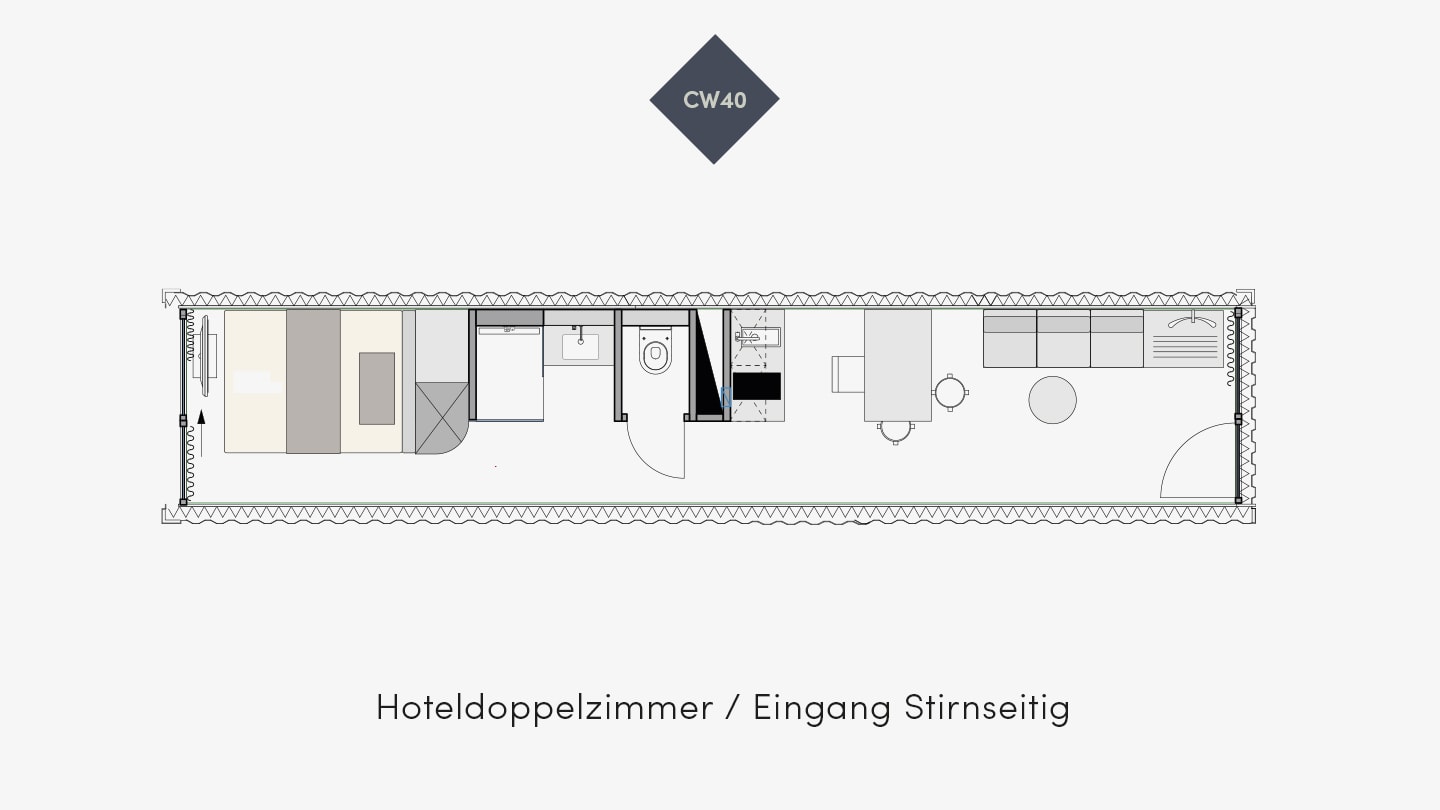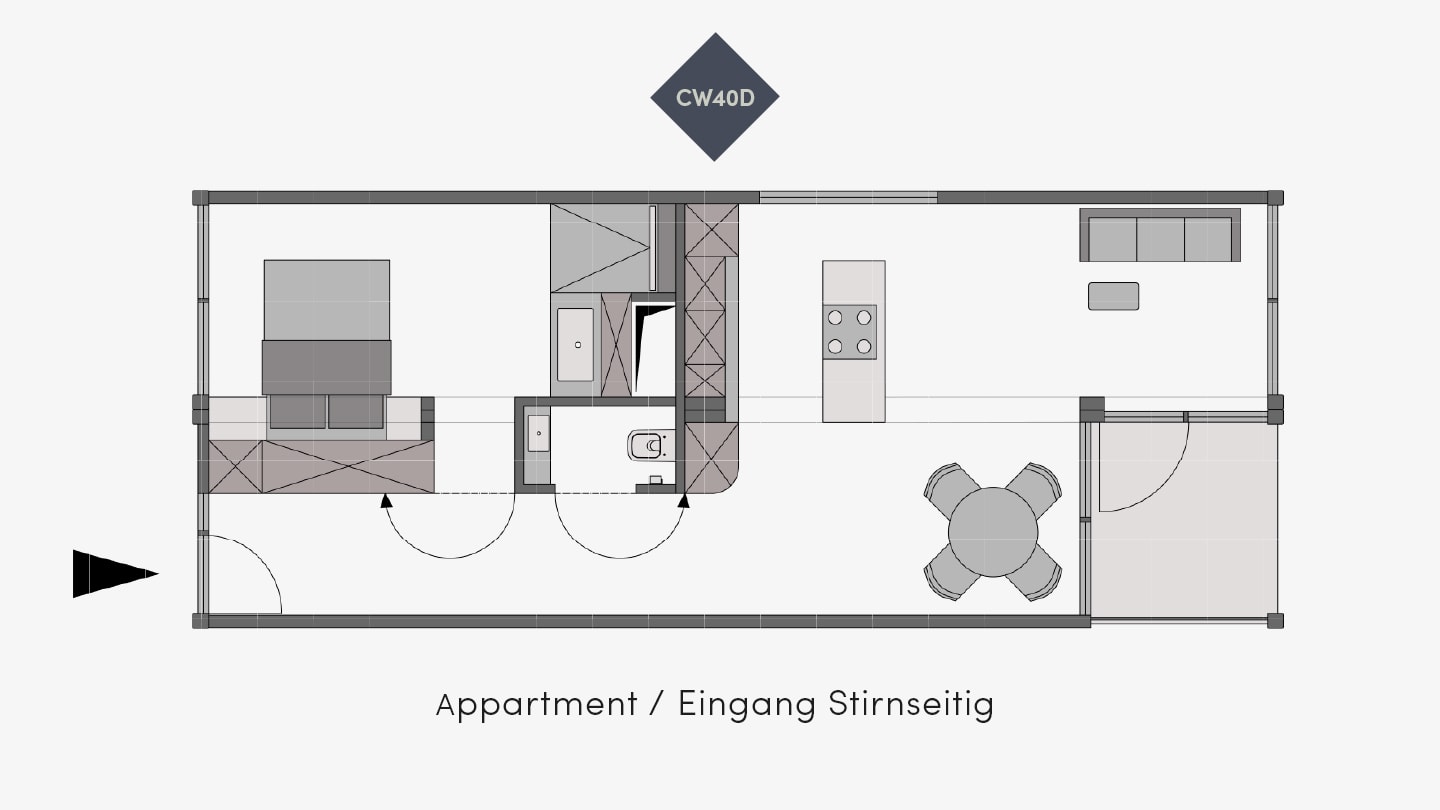 Design
A sea freight container can tell a story and in its "second life" no longer transports goods, but a sustainable message.
Buildings made of container modules display a particularly characteristic external effect precisely because of their very unique form and the connotations associated with it. By including these temporary and mobile properties associated with sea containers, exciting architectural possibilities arise. Thanks to the ability to combine several modules into larger units, the alternatives for planning with Containerwerk modules are many and varied. Using the container hybrid construction method opens up additional design options.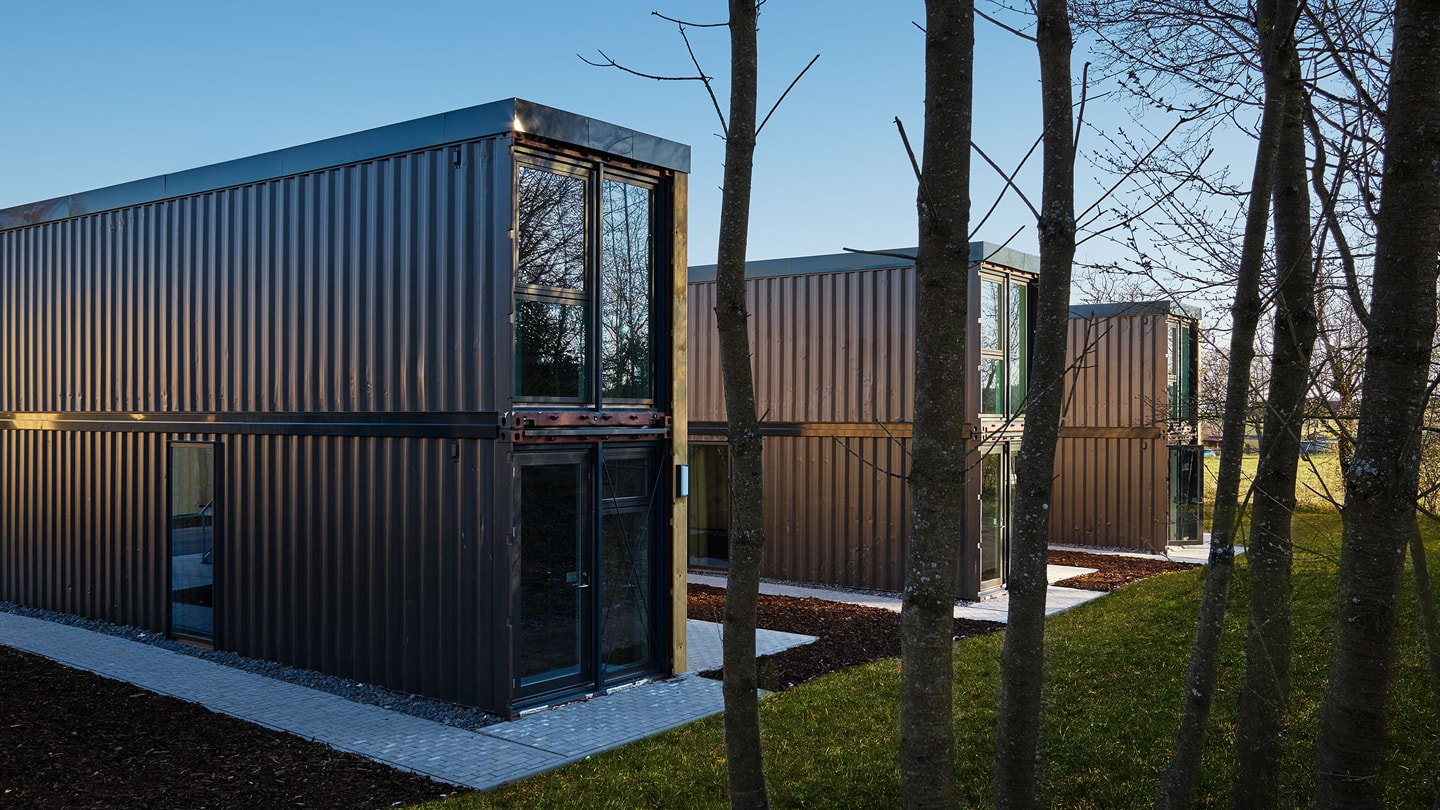 Planning & Process
Serially planned, industrially manufactured, and expanded. That is how container architecture is created with significant time and cost savings compared to conventional construction methods.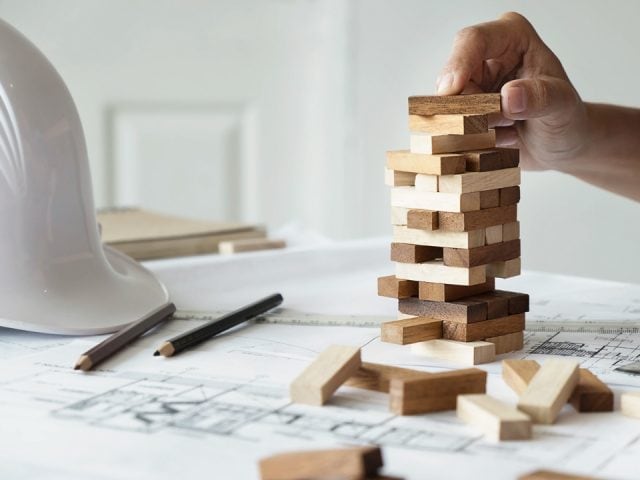 Project development
On request, we support you already in the initial phase of your project and prepare feasibility studies. If required, we offer to accompany your construction project in all service phases. At the same time, our team of experienced architects, engineers, and specialist planners, who are familiar with container construction, will be on hand to help you.
Industrial manufacturing
In our highly engineered production halls, the containers are insulated and extended to turnkey modules and at a guaranteed fixed price in an efficient process. Simultaneously to this process, it is possible to develop and prepare the ground for the building, which leads to a considerably shortened construction time.
Transport
Transport of the container modules is very simple and cost-effective via standard logistics and on a fixed date. As a result, there is no need for expensive and time-consuming special transports. Shipping on conventional freighters is also possible without any problems.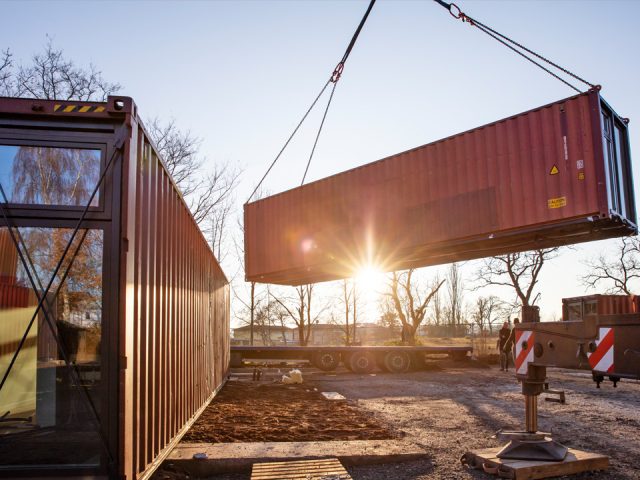 Construction
After delivery of the fully equipped container modules to the construction site, the ready-to-occupy building is assembled in just a few days with low noise and emissions. Only a few trades are required on-site, which significantly reduces the cost and planning effort. The modules are connected to the infrastructure via a single transfer point per module.
Finishing
Few works, such as facades or the installation of photovoltaic systems, remain to be carried out after assembly on-site. The containers are pre-fitted at the plant, and the components can be finally assembled easily and quickly as ready-made assemblies at the construction site.
The clients Felix von Knobelsdorff and Clemens Müller report on their experiences during the planning and construction of their boarding house project in Wertheim. Our container modules were used to create 21 fully equipped apartments for two to four people each. 
Other topics on our website