Advantages
Sustainable, flexible, safe, high-quality, fast, inexpensive, and architecturally exciting - the advantages of our construction modules at a glance
Today's challenges to architecture, whether in the area of living or working, are very diverse. On a global scale, an increasing number of people need more and more living space. Office and commercial architecture require greater flexibility and sustainability.
Converted sea freight containers are suitable for responding to the many new requirements. With reference to sustainability, energy efficiency, flexibility, and construction cost security, modular and serial construction based on refined freight containers is a fascinating and architecturally exciting way to provide contemporary living and working areas.
Sustainable construction
Sustainable construction is not an option, but a necessity for our future.
Raw material savings
It all starts with highly effective upcycling through the repurposing of used sea containers. This saves valuable natural resources for the room shell.
100% recyclable
At the end of their life cycle, the materials used for insulation can be completely separated and recycled.
Energy-efficient
The monolithic thermal insulation always achieves the requirements of the current Energy Saving Ordinance and allows energy-efficient heating and cooling.
Low construction emissions
Due to the high degree of prefabrication of the room modules in the plant, we realize a short construction time combined with energy-saving construction. Modules are assembled on-site cleanly, quietly, and quickly to become a finished building.
Clearance without residues
Compared to conventional construction methods, soil sealing is minimized, since in most cases point or screw foundations are sufficient for the containers. Consequently, clearing without leaving any residues is easily possible.
Long service life
The high-quality production method and the extremely stable outer shell of our modules made of Corten steel grant a long service life of container architectures which is comparable to conventionally constructed buildings. Sustainable construction is not an option, but a necessity for our future.
Fast & planning reliable construction
Due to manufacturing processes as efficient and standardized as in the automotive industry, planning and cost security are guaranteed.
Short planning time
High levels of standardization and the use of pre-planned assemblies significantly reduce the planning and production effort.
Automated manufacturing process
Due to a mechanized and automated process in the insulation of the containers and a weather-independent production in our plant halls, high quantities can be manufactured in a short time.
Extremely short construction time
Thanks to a high degree of prefabrication of over ninety percent, installation times on-site are extremely short, not least because only a few trades are required to assemble and connect the modules.
Efficient overall process
Due to parallel processes in the construction sequence (development of the building ground and foundation work on-site, while the modules are fully equipped at the plant, including bathrooms and windows), the overall process becomes particularly efficient.
Made in Germany
Everything from a single source: We produce on 40,000 square meters of our own plant premises in Germany, making our production processes independent of external trades and delivering the fully equipped room cells to the construction site on a fixed date.
Free from defects
By manufacturing under constant conditions and final quality control of each module in the plant, we guarantee a constant high quality and absence of defects. Manufacturing processes as efficient and standardized as in the automotive industry guarantee planning and cost security.
Flexible construction
Containerwerk offers architects and investors an ideal building block for flexibly deployable residential units. It enables both permanent and temporary projects in equal measure.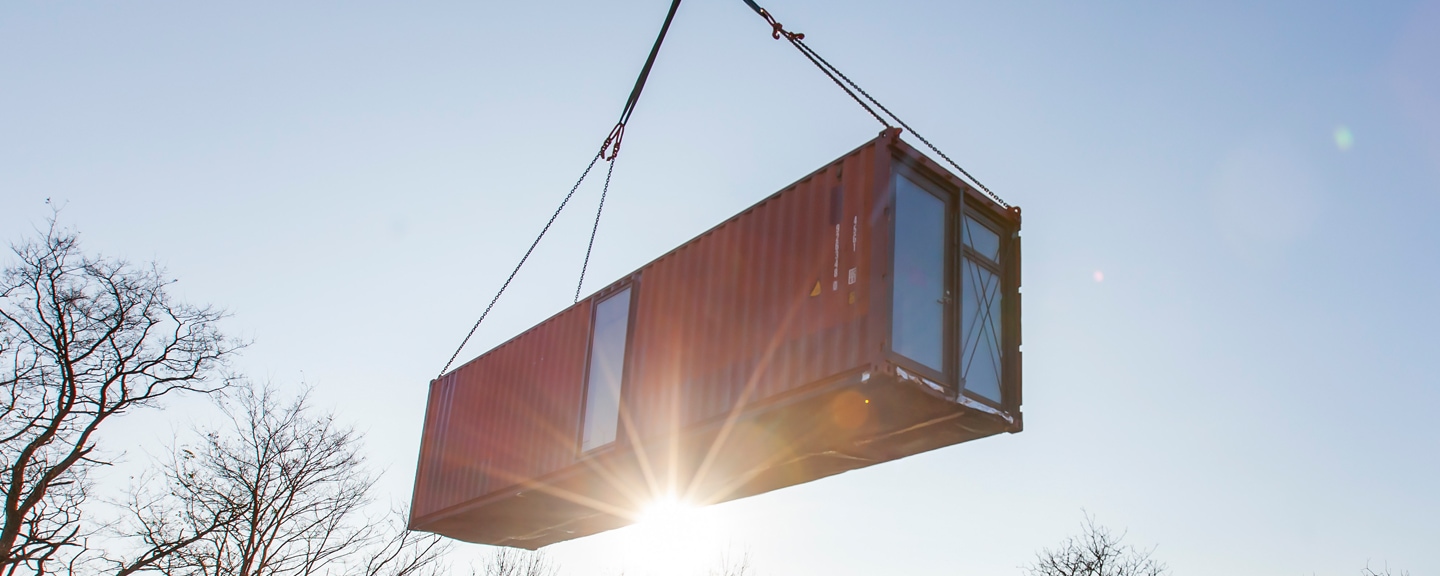 Unlimited building variants
Our range of system building modules can be combined like a construction kit to create almost unlimited architectural building variants. Also, the external appearance of the architecture can be designed in a variety of ways, for example through facades or roof greening.
100 % mobile
By insulation on the inside of the containers, the transport devices and DIN standards on the outside are preserved. The possibility of transport with standard logistics on land and sea remains. Thus, the modules are optimally suited for the temporary use of space and can also be set up again at other locations.
Earthquake-proof
For decades, buildings made of containers have been preferred in earthquake zones because they are flexible as well as extremely stable and break-resistant, thus providing a high level of safety in the event of an emergency.
Flexible use
The room cells offer a wide range of possible uses through scalable buildings. Various floor plan options increase flexibility in use.
Container hybrid construction
For buildings of four stories or more, Containerwerk offers the option of container hybrid construction. In this case, the modules are inserted into a load-bearing grid of precast concrete elements. Such construction methods allow expanding buildings with very little effort, even during use.
Learn more about our innovation in container hybrid construction and our collaboration with expert planners from the modular construction cluster at RWTH Aachen University.
Other topics on our website